Kelly Ann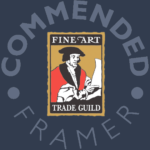 In 1995 I became a Fine Art Trade Guild Commended Framer, an internationally recognised qualification. At the time I was the youngest person in the country to gain this prestigious award. Now, many years on and with a wealth of experience, I pride myself on the quality and creativity of my work. Framing is not only a vocation for me but a passion. Seeing an item perfectly framed and tailored to a client's specification is something I find hugely rewarding.
Over my 25 year career I have undertaken a wide variety of framing types, much of it to the highest conservation standards, including work for the QE2. Whether it be an oil painting, a piece of memorabilia or an object, the aim of my business is to provide a bespoke, personal framing service that wholeheartedly meets your requirements in order to enhance and safeguard your work for years to come. I have framed everything from old etchings, sports shirts, war medals and even a 1930 swimsuit. The creative challenges which these objects bring mean that no day is the same!
In addition to my framing experience I also hold a BTec National Diploma in Interior Design, which gives me a real perspective for a tailor made service for each individual customer. With this in mind I have a hand-picked colour range for our barefaced mouldings that I feel will work harmoniously in any home.